South Sudan is the youngest nation in the world. It gained its independence from Sudan on July 9, 2011 after twenty one (21) years of intense civil war. The war claimed 2.5 million lives and was brought to an end in January 2005 through a negotiated peace deal known in the region as the "Comprehensive Peace Agreement" (CPA). The agreement granted South Sudan autonomy and a referendum for the people of South Sudan to decide their future at the end of a six-year period. On July 9, 2011, 98% of the people of South Sudan voted for independence, making it a sovereign State in the world.
Shortly after independence, a fresh war broke out in 2013 between the South Sudan President and the Vice President. The duo are from different ethnic groups and the fight that started as a political misunderstanding slipped into ethnic lines and two tribes were plunged into violent conflict, resulting in the loss of many lives and many destroyed properties. It is estimated to have claimed 400,000 lives, displaced millions of people internally, and sent four million more people to refugee camps in the neighboring countries of Uganda, Kenya, Ethiopia, Congo, Sudan, and Central African Republic.
Soon after fighting broke out, the government and the rebel groups agreed on a peace deal in 2015, but this peace deal didn't last, collapsing in six months in 2016 with many lives being lost. The bodyguards of the two main actors fought again during a meeting at the presidential palace, displacing even more people. The duo were immediately pressured by the international community into striking another peace deal in 2018. In order for the peace agreement to succeed, some key articles still need to be implemented. Security arrangements, reunification of forces, and a permanent constitution development need to be completed to pave the way for elections in 2023.
The war has also devastated the economy. Inflation has reached a peak, resulting in a poor standard of living, absolute poverty, and violent crime across the country. The government has not been able to finance the budget for two consecutive years due to the economic collapse. The little money they get from oil proceeds has been diminished through corruption and war. The government is being threatened by many rebel groups, forcing it to buy weapons to protect itself. Other sectors, such as health, education, infrastructure, investment, energy, agriculture, human development, and peacebuilding activities need to get more attention.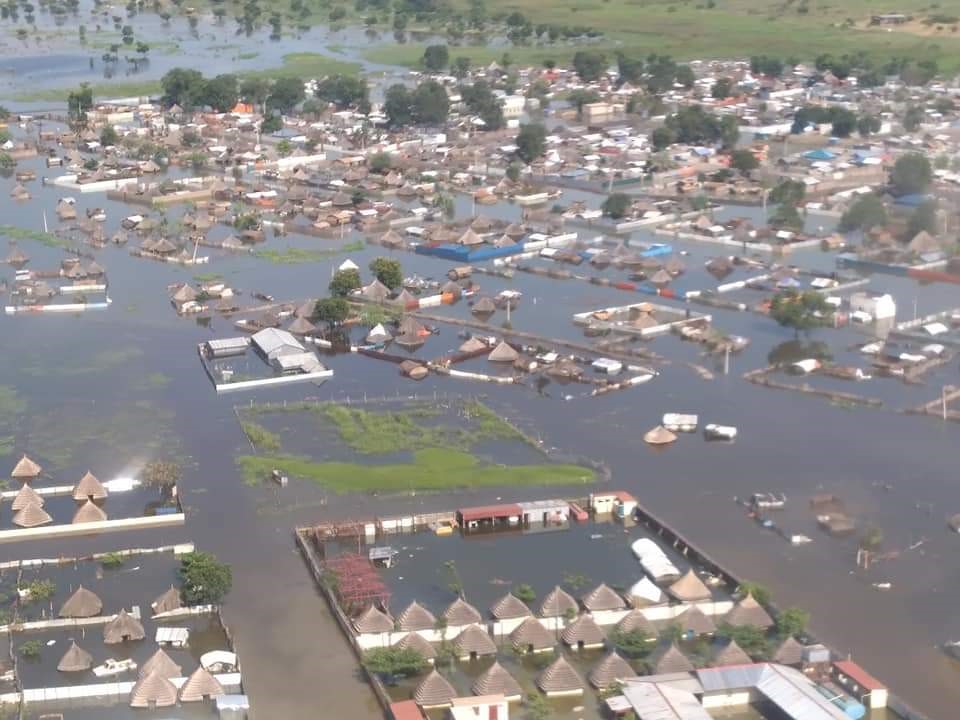 On top of all the above challenges, natural disasters have added more suffering for the people of South Sudan. More than 630,000 people have been displaced by flash floods this year alone. These people are camping in open places and they lack basic needs like toilets, clean water, food and mosquito nets to prevent malaria. To survive this season, they need these supplies as soon as possible. To enable them to return to their homes, a permanent dike is needed to protect them from flash floods now and in the future.
Photo and about the author:
Jacob Aluong is the founder of Nonviolent Youth Initiative, an agency whose vision is to increase the number of young people seeking nonviolent approaches to counter violence and extremism in the communities across South Sudan.
Jacob was born and raised in South Sudan, Africa, where he witnessed the suffering of people across the country as well as experiencing it personally. This suffering empowered him to dedicate himself to become an aid worker to provide humanitarian assistance to the people. While doing aid work, he realized that the wounds that aid workers try to nurse are caused by human beings themselves, and therefore he extended his work to preventing violent conflicts. He strongly believes that peacebuilding and conflict prevention are the catalyst to actionable steps to minimize the suffering his fellow countrymen and women experience. He also serves as a Technical Advisor for Samaritan's Purse in the department of International Disaster Relief. He is on stand-by to be deployed around the world when disasters strike, bringing hope to the victims.