Wahat al-Salam – Neve Shalom (WASNS) is a unique Peace Village with its ideological base and day-to-day experience as a place of equal co-existence between Israeli Palestinians and Israeli Jews. For those who wish to see more places like WASNS, not just in Israel but around the world – not only for political reasons but in order to provide a real benefit to societies everywhere – it might be an appealing thought to know that at WASNS, villagers work not only on building peace in their own community, but also on transferring their vision and methodology to communities elsewhere in the world, especially those communities that are also confronted with conflict and war.
At WASNS, one can meet people from different cultures and backgrounds every day. Villagers and visitors alike. Together, these people feel the need to learn from each other: not just their languages but also their culture, beliefs, customs, and religious backgrounds. At the tiny Oasis of Peace Village, the small world has become one big village, one that deserves to be fostered as a most open society.
People from all over the world come to the Oasis of Peace. They are from different backgrounds and all have their own personal stories. They are seeking a stable and sustainable solution for themselves, their families and friends, their communities. Together with the villagers of WASNS, they practice the Oasis of Peace vision for the ongoing development of not only WASNS, but also their own communities. This trans-national, trans-cultural transfer of knowledge and skills needed to build peace within non-peaceful environments takes place in every household and every street at the Oasis of Peace. More formally, the peace pedagogy is carried out via the programs at the School for Peace, where trainings and conferences take place on a year-round basis.
Trans-generational peace building also is key, and at WASNS is addressed through specialized programs for each age group, like the Nursery, the Kindergarten, the bi-lingual (Arab-Hebrew) Primary School at the heart of the village and the Nadi Youth Group. Here, younger generations learn – through the practice of experiential learning – to eliminate stereotypes and to live peacefully and as one.
The Primary School is a place where two national groups meet and children grow up together, learning about Palestinian and Jewish culture, about their traditions, religions, holidays and languages; a place where the children feel it is normal to be together on a daily basis. The education system plays a central role in the process of the everyday life encounter between the two national groups and this involves the staff, students, parents and families. Knowing about the various cultures and hearing different points of view and stories is all part of accepting the other. Parents send their children to the WASNS Primary School because they don't want them to fear Jews or Arabs.
. .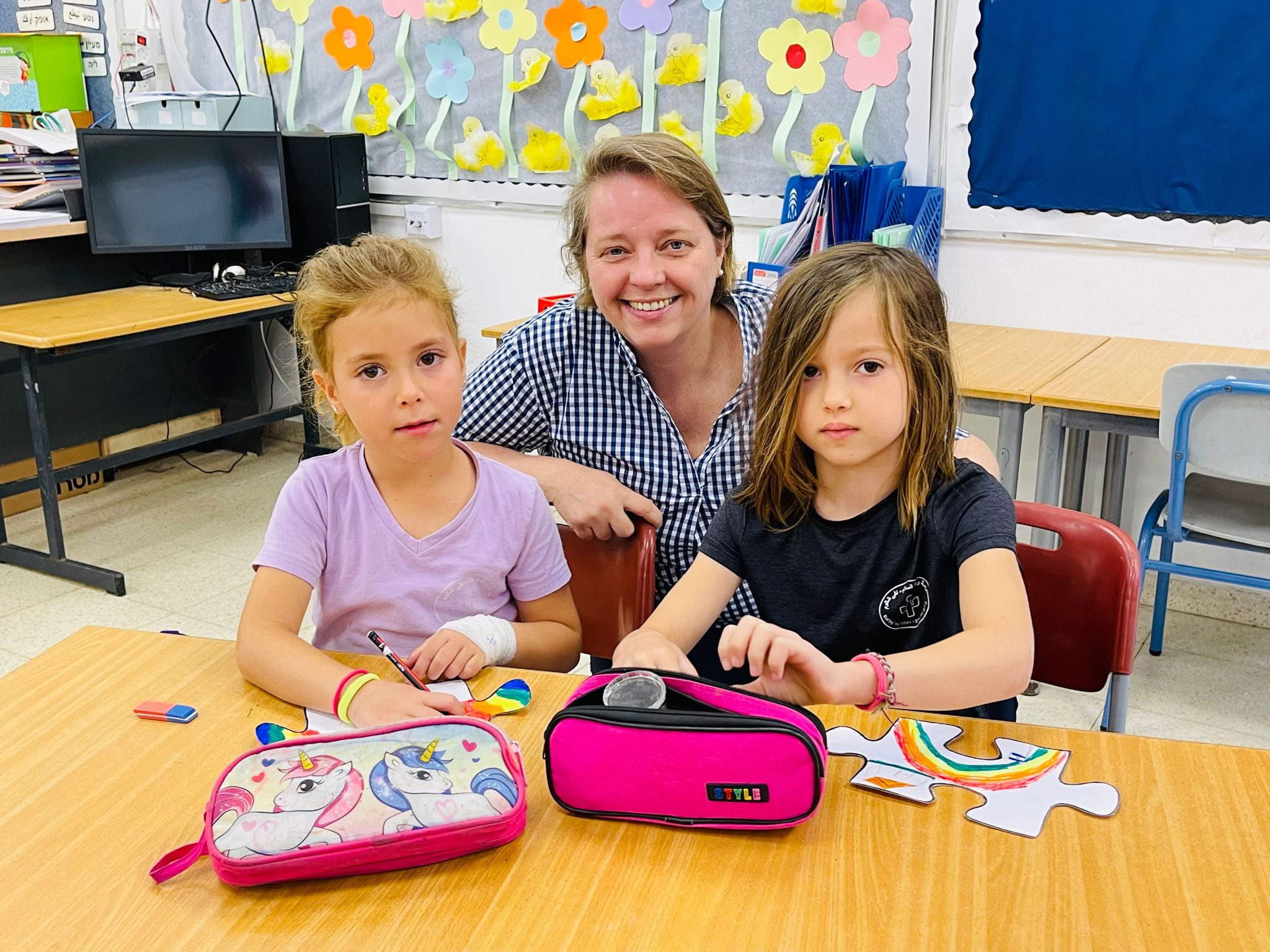 Photo: Caecilia van Peski, board member of WASNS Netherlands visits the Oasis of Peace primary school
This special quality of all educational institutions at WASNS (for ages 0-105, and for people of all nationalities, characters, colors, and creeds) is that they bring together Jews and Palestinians, as well as internationals from a very young age, to form a learning community together. Through growing up and learning together, participants develop a different attitude towards the political situation in the region, a new bold thinking that emphasizes peaceful co-existence, and tolerance, respect and acceptance of differences. As such, WASNS offers a bold and unique perspective, one that can be integrated in other societies as well, globally. Fit for purpose and for a common future!
Villagers and Friends of WASNS acknowledge that Israel as a whole is a country mired in a stalled political process from which it will never emerge until the underlying problems of the ongoing situation are properly addressed. Because Wahat al-Salam – Neve Shalom addresses these very same problems head on, it is able to succeed, to flourish and to provide a positive example that the entire world would do well to emulate.
Peace Village Wahat al-Salam – Neve Shalom was established in 1970, by Father Bruno Hussar. The name Neve Shalom is taken from a passage in Isaiah 32:18: "My people shall dwell in an oasis of peace". Born in Egypt the son of non-practicing Jews, Bruno Hussar converted to Christianity while studying engineering in France. Witnessing at first hand the vitriolic antisemitism of wartime France sharpened his awareness of his Jewish roots. He joined the Dominican Order, was ordained into the priesthood in 1950, and sent to Jerusalem to establish a center for Jewish studies in 1953. In 1970, in order to promote ecumenical interfaith dialogue, Bruno Hussar obtained forty hectares of terrain classified as no man's land in the Latrin Salient, half way between Tel Aviv and Jerusalem. The area was desolate, treeless, unwatered and covered with brambles, and had not been under cultivation since the Byzantine period. At the outset, foreigners and their families came to share the adventurous and bold experience with Bruno Hussar. Hussar's project envisaged the creation of a sociocultural framework that would enable residents to live on terms of equality and mutual respect while conserving the distinct cultural heritage, language and sense of identity each individual brought to the community from the complex mosaic of Palestine's historic communities. At the same time, it would be designed to function as a school of peace where people from all over the country could learn to listen to each other.
Today, the Oasis of Peace Village is run by a secretariat which, like its subcommittees, is elected by an annual democratic vote. The head of the secretariat effectively serves as the mayor of the village. In addition, there are several internal committees to run the various activities of the village. A numerical balance is consistently observed between Jewish and Palestinian Arab representatives. Classes in the village school each have both a Jewish and an Arab teacher. When matters of principle are on the agenda, a plenum made up of all full members of the village is constituted to deliberate, and its final decisions are binding for everyone.
The peace activities, educational programs and ongoing development of WASNS depend on moral and financial support of all who believe in the mission of the Oasis of Peace. Please find out more , donate and help spread the word that at the Oasis of Peace, peace is possible!
Author:
Caecilia van Peski
Board member Netherlands Friends Association
Netherlands Friends Association Neve Shalom/Wahat al Salaam: www.nswas.nl
Information WASNS
Email: info@wasns.info Web: https://wasns.org Facebook: oasisofpeace Twitter/ X: @oasis_of_peace